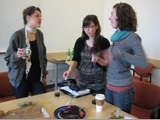 Fully accredited by the Alma Mater Society, the Student Association meets regularly, and publishes the undergraduate journal The SEED, which prints articles by students on subjects relating to the humanities and social sciences.
Former president of the CSSA, Stephen Irving, had this to say about the Program and the Student Association:
Marshall McLuhan once wrote that, "The youth of today are not permitted to approach the traditional heritage of mankind through the door of technological awareness." The Canadian Studies Program kicks that door down, embracing heritage and modernity through a 21st century Canadian perspective. The Program extends beyond just one academic discipline, incorporating all aspects of Canadian society, from culture, to history, to politics. The combination of varying academic fields provides students with an expansive and analytical understanding of contemporary Canadian culture and issues.
The Canadian Studies Student Association is a tight group of students from all regions of the country who have a shared interest in enhancing their knowledge in Canada. Meetings are held to discuss and debate current issues and organize such activities as movie nights, lectures, and the editing and publishing of The SEED, the University of British Columbia Journal of Canadian Studies. Join us!